Green Factory
LAYANA's Green Plan
LAYANA aims to be friendly to the environment and conform to international environmental protection. In addition to its own architectural structure based on the concept of "nature and green energy", the water resources circulation system and green space garden are also planned in the plant space design. In the promotion of energy-saving and carbon reduction, we carry out the energy saving of daily lighting and air conditioning, implement the reduction of CO2 and factory waste. The above actions can lead LAYANA that the environmental impact in the plant and product manufacturing process can be reduced, thereby enhancing the friendliness of the industrial environment and ultimately achieving the goal of low carbonization.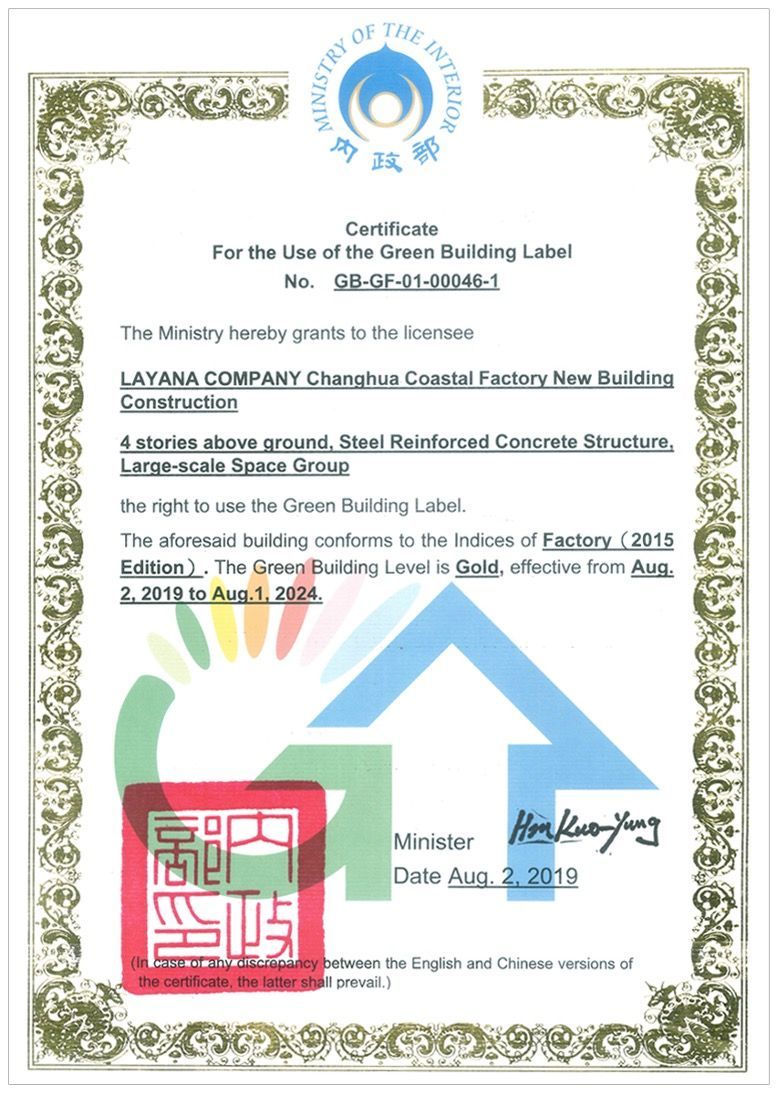 To implement the promotion of green energy projects and strive to obtain relevant government certifications, LAYANA has the following goals from short-term to long-term:
The Short-term goal-Green building certification-Golden level (plant building)
The Medium-term goal-Cleaner Production System Qualification Certificate (Production and Operation Management)
The long-term goal--Green Factory Certificate (integration of green buildings and cleaner production)
Green Building – Golden Level (TOP 2)
The green building certification takes four main directions (Ecology, Energy Saving, Waste Reduction, Health) as the main axis, and uses the following 9 indicators as assessments. In August 2019, LAYANA obtained the Green Building - Gold Level(TOP 2) recognition.
Range

Evaluation

Ecology 

Biodiversity

Retained widely green area
Variety of plants and flowers

Greenery

Wide lawn planting
Sky-gardens

Base water retention

Soil Water Content Design

Energy Saving

Daily energy-saving

Building exterior structure energy-saving design
Air conditioning and lighting energy-saving design

Waste Reduction 

CO2 reduction

Promote renewable energy and solar photovoltaic

Waste reduction

Reduce the ratio of construction waste to air pollution

Health 

Indoor environment

Green building materials use
Carbon monoxide, carbon dioxide monitoring

Water resources

Establish a water cycle and rainwater recovery system

Sewage and garbage

Improvement

Resource recycling and garbage sorting
Dedicated centralized venue and regular cleaning
Building on Rustproofing
Outer Steel with Hot Dip Galvanized(HDG)
Ceramic Tiles Exterior
Inner Steel with Zn/Al Metallization
Stainless Steel Doors and Windows with Coating
Type II Portland Cement
Factory Sealed With Positive Air Pressures Devices on Entrances
Green Building Certificate

Medium-term Goal-Cleaner Production System Qualification Certificate

Obtaining the certificate of the clean production system is the current direction and goal of LAYANA. Clean production refers to the environmental strategy of continuous integration and prevention. It applies to production processes, products, and services. The purpose is to increase ecological benefits while reducing the impact on humans' health and harm.
Therefore, the evaluation in cleaner production is oriented to cover manufacturing, environmental design, green management, and social responsibility, and propose innovative plans or strategies.
The three major plans for cleaner production are as follows:
Process aspects-maximize resource use
The production process and equipment must use low-hazard materials and generate less waste
Reduce various dangerous and harmful intermediate products
Reduce waste generation and toxicity
Product aspect-minimize product life cycle resources & energy consumption
Reduce the harm to the ecological environment during the product itself and the use process
Recyclable, renewable, and reusable
Service
Integrate the concept of environmental protection into the provided services and reduce the environmental damage caused by the services.
Long-term Goal-Green Factory Certificate
Only after obtaining the above two parts of the qualification certification can we further obtain the qualification of the green factory Certificate.
For the qualification of green factories, factory building is regarded as hardware and needs to be approved by Green building; production and operation management is regarded as software and needs to be approved by Cleaner Production System Qualification.
Only after achieving the green specifications of hardware and software, can we be certified as a green factory. It is also the ultimate goal of LAYANA for sustainable management and environmental protection.
Energy Management System
Since Layana established in 1982, we have been committed to creating good partnerships with suppliers and customers, provide a great and sustainable working environment for employees.
To achieve sustainable operation, LAYANA establishes and standardize the management standards for environmental impact by establishing ISO 140001 Environmental Management System, pay attention to the use of various energy resources, and implement energy-saving and greenhouse gas reduction.
In 2020, LAYANA implement ISO 50001 Energy Management System to achieve the goal of energy conservation with practical actions, fulfill our responsibility to protect the environment, and establish the foundation of continuous improvement in the future.
LAYANA continues to promote the following issues, implement the policy of cherishing energy and making good use of energy, and drives all colleagues of the company to do their best to protect the original environment of the earth's energy.
Comply with regulations: provide energy and resources improvement and implement energy laws and regulations.
Efficiency improvement: increase equipment with energy-saving labels, import energy-saving design products, and processes, to achieve energy-saving goals.
Full participation: establish appropriate energy strategy and drive full participation to promote sustainable operation.
Continuous improvement: continuous energy reduction measures to optimize energy efficiency
LAYANA used the green building design and obtained the Green Factory Certificate, and planned a series of water resources protection policies, including Water resources allocation and the Water & Rain recycling system.
Raft Foundation - Water Resources Allocation
LAYANA uses raft foundations for construction. The design of raft foundation includes configuration of drainage pipes which allows wastewater and sewage to discharge smoothly without siltation
Under LAYANA's total land area which includes the plant and the infrastructure, the water resource coverage area distinguish from a rainwater collection tank, rainwater purification pools, potable water, and tap water.
Water Circulation System
With the water resources recycling system, LAYANA can maximize the use of water resources by effectively distinguish, recycling, and reprocessing to achieve water reuse and used continuously.
Our water circulation system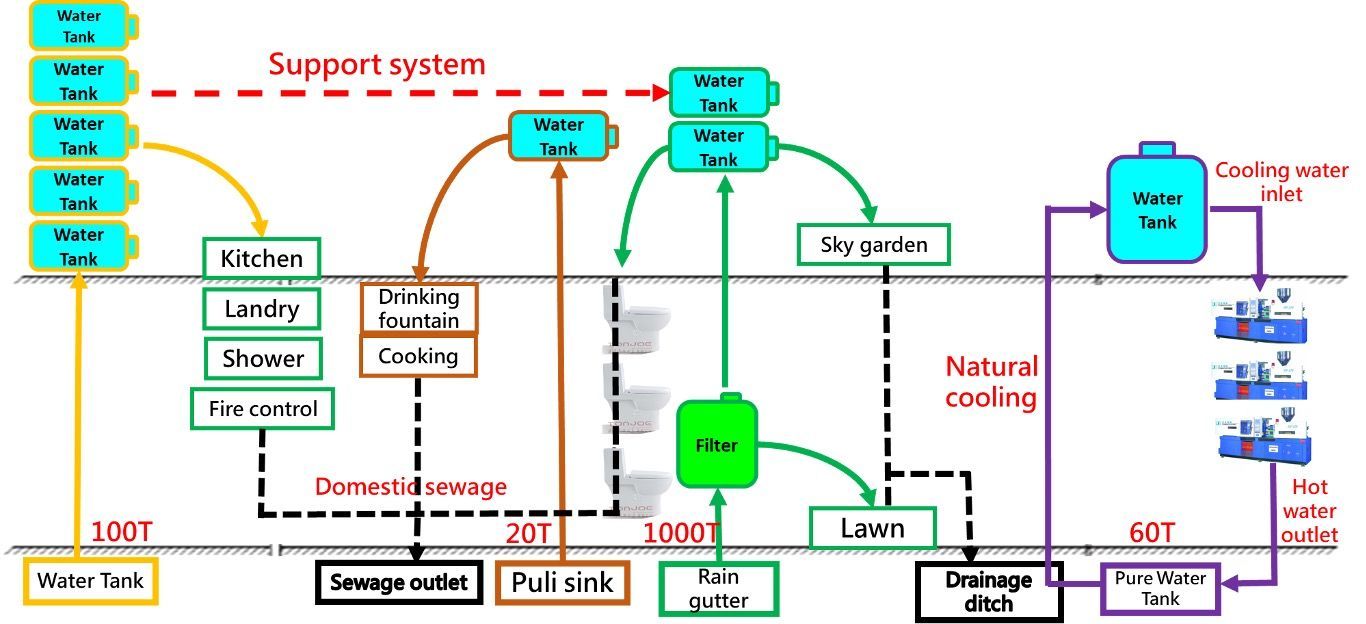 Rainwater Harvesting System
The rainwater is collected from the roof and discharged into the rainwater collection tank through the pipeline. After impurities are removed by the filtering equipment, the filtered rainwater is stored and sent by the automatic sprinkler system for regular automatic irrigation.
In the future, solar power generation devices will be added to convert solar energy into clean power for use by using photoelectric technology.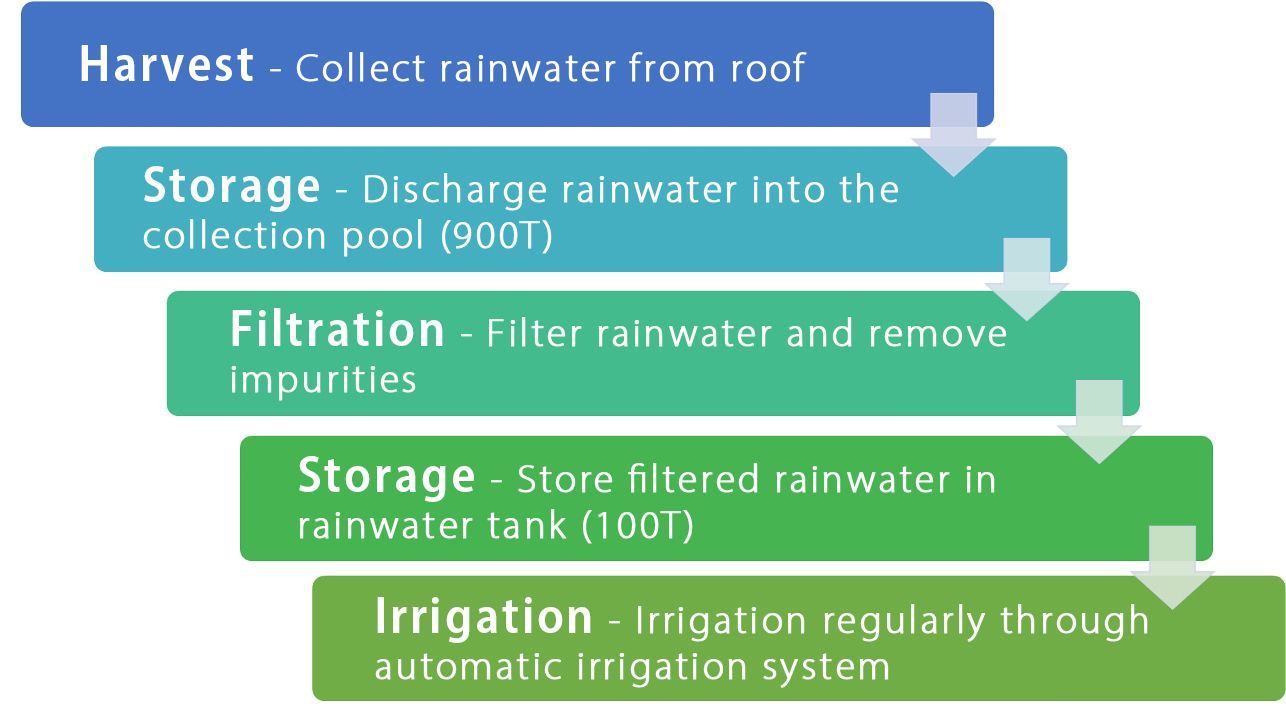 | | |
| --- | --- |
| Green Building – Gold Level | ISO 50001 Energy Management System |