EHS
Employee health drives corporate productivity

"Promise, Drive" LAYANA integrates everything it does for health promotion into corporate culture and values, improves work desks that are not ergonomic, and sets up healthy staff restaurants. Let employees get all-round care and fun at work, and maintain the people-oriented corporate sustainable business philosophy.

A happy company with good welfare, make employee families happier


The enterprise is people-oriented, and the most important strength to support each colleague is the family, in order to allow the colleague to have no worries and balance between work and life. Helping employees take care of their families and making "employees happy" is the company's well-being.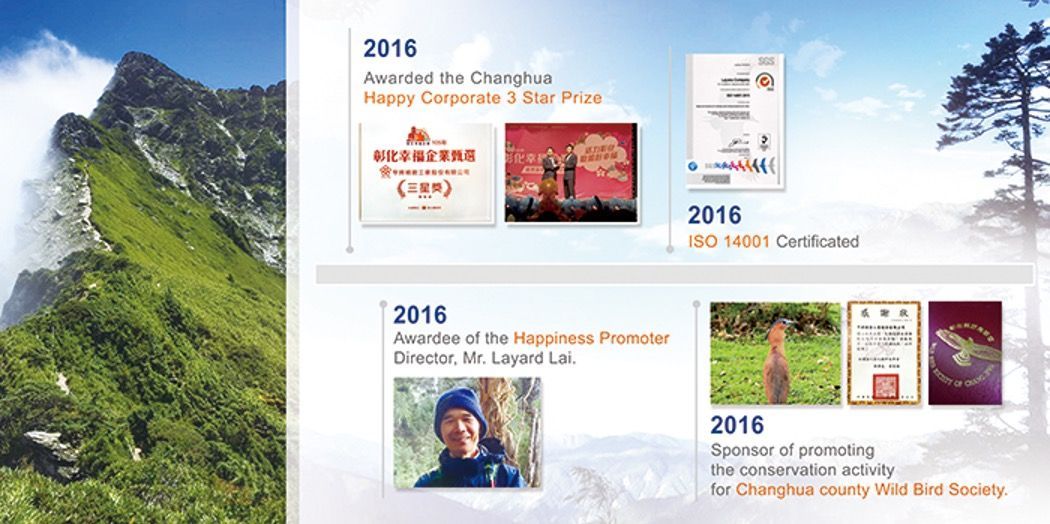 | Year | Title |
| --- | --- |
| 2019 | Green Building – Gold Level Certificated |
| 2019 | ISO 50001 Energy Management Systems Certificated |
| 2017 | Taiwan EPA Carbon Footprint Certificate |
| 2016 | The awardee of the Happiness Promoter Director. Mr. Layard Lai. |
| 2016 | ISO 14001 Environmental Management System Certificated |
| 2016 | Sponsor Wild Bird Society promotion of conservation activities |
Working environment
Employees are the most important partners for company operations! Providing employees with a safe, hygienic, and comfortable working environment is one of the most important obligations and responsibilities of an enterprise to take care of employees. We implement relevant management framework systems to ensure the protection of employee safety, hygiene, and health!
Dustproof and central air conditioning production line
The green space recreation area
Staff restaurant, promote staff balanced diet
In addition to rewarding colleagues' hard work, each activity also includes group interactions and the enhancement of staff's centripetal significance. It is also hoped that through a relaxed atmosphere, colleagues can show their usual less relaxed side and draw closer the interaction between superiors and subordinates. Distance and each activity can also enhance the familiarity of each other's personalities, and then cultivate a tacit understanding of teamwork, so as to provide better service quality to customers all over the world.
Annual Model Supervisor / Best Employee Award
The starting salary is better than the minimum wage
Provide employees with external improvement assistance and encourage employees to further their studies
Benefits & Rewards
Employees are the company's most precious resource, and health is one of the most caring matters in LAYANA. LAYANA establishes a friendly work environment and good employee relationships, creates a positive corporate culture, and inspires every employee to act with positive thinking and dedication. Attitude brings good working performance and productivity.
A self-employment system helps foreign workers to save intermediary costs.
Recruitment of disabled and indigenous employees
Employee complaint communication channel: employee satisfaction survey (suggestion box)
Cheonggye bonus
Encourage employees to climb Yushan, the highest mountain in Taiwan, participate in marathons, and cycling.
Implement a happy weight loss plan and healthy meals for employees.
Layana's staff restaurant launches weight-reduction and low-calorie meals to help staff lose weight and maintain health. On December 24, 2013, a "Happy Weight Loss Class" was opened. A total of 5 employees organized a group to participate and the final results achieved a total weight loss of 77.1 kg. Experience Sharing