Cutlery (Chopsticks)
Do You Know How Many Pairs of Disposable Chopsticks Were Used in Taiwan Last Year?
It was 4.5 billion pairs, which is equivalent to travel 23 times around the earth! This considerable number is also the amount of garbage we generate every day!
With the improvement of sanitary conditions and the rise of environmental protection concepts, we have begun to abandon the use of disposable chopsticks to avoid unnecessary consumption and greatly reduce the amount of daily garbage.
What Kind of Chopsticks Should We Use?
Image this, you'll have a pair of chopsticks made from food-safe materials which are also modern, beautiful, and easy to store. It is portable and reusable when dining out which allows personnel to eat healthily and use it safely. This is also LAYANA's original intention of making chopsticks.
LAYANA has been committed to develop and manufacture environmentally friendly tableware since 1982. Our aim is to produce reusable, beautiful, and quality environmentally friendly tableware that includes chopsticks, spoons, knives, and forks that are common used in Western restaurants or countries.
What Is Baoquai Non-slip Chopsticks?
With more than 30 years of experience in mold technology, LAYANA creates chopsticks, which are most suitable for all people to use. The chopstick is square-shaped and made from food-safe materials, 316 food-grade stainless steel & SPS food-grade resin from Japan. Our founder named it "Baoquai" and it is a pair of chopsticks with the concept from delicate to exquisite that most suitable for the gourmand! Baoquai is also the chopsticks that could protect you and your loved ones' health.
Concept + Ultimate Craftmanship Is The Goal That We Will Always Follow.
LAYANA team expects that when people using Baoquai, what they seem is not just an eating utensil but also a unique, quality accessory during the dining time. The concept of tasteful always supports by craftsmanship as we pursuing excellence and never allow low-quality product.
With the goal of producing healthy chopsticks that fit and safe for everyone, LAYANA took 14 years to launch "Baoquai". In 2018, the third generation of Baoquai has been experienced by thousands of customers from one of Taiwan's famous and top-level hot pot restaurants, well-known airline catering services, and restaurants, and receive an overwhelmingly positive response and feedback.
FDA Approval LAYANA Baoquai 316 Food-grade Stainless Steel Chopsticks
Product Specifications
Size:27cm ∣ 23cm ∣ 21cm
Color:Black ∣ Red ∣ White
Product Materials
316 Food-grade Stainless Steel & SPS food-grade resin from Japan

Heat-resistant temperature 150°C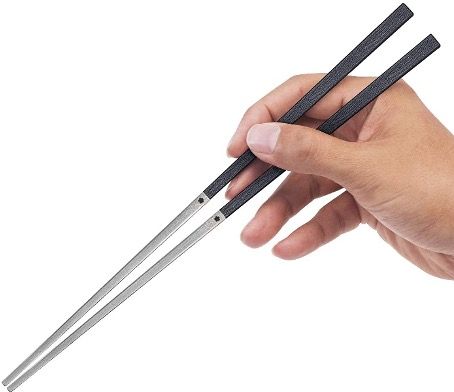 Product Features
NON-SLIP CHOPSTICKS DESIGN – Square-shaped tips allow users to pinch food easily – noodle, sushi, tofu, dumplings, and peanuts. Large and flat surfaces enable users to grab food tightly which replaces pointy chopsticks. Very suitable for beginners.
QUALITY MATERIALS FOR A HEALTHY WORLD – We choose to use premium food-grade materials to which provide excellent resistance to acids and corrosion. These are not toxic to the human body, no emitting toxic chemical odor, and festering fungus.
REUSABLE & ECO-FRIENDLY – Chopsticks are made from stainless steel. All the products including the packaging can be recycled. The life cycle of the product is five years.
DURABLE & DISHWASHER SAFE – The materials of the chopsticks are heat-resistance.
PATENTED DESIGN AND 100% BORN IN TAIWAN – LAYANA specializing in the design and bi-material processing technology manufacture, while competing products might use chemical glue to join handle and metal stem.
We Sell & Ship To Worldwide
Read More
Product Categories